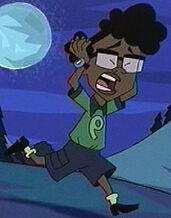 Marky
[1]
is one of the kids in Cabin Six, the cabin Jake Long is in charge of at Camp Mugwormp. He has an IQ of 240, but is unable to do anything not scientific. After training with Jake for the Mugwormp cup, he excels at archery. He is able to use his intellect to calculate complex equations so he can make extremely accurate shots. He is seen near the end of the episode in a canoe along with the rest of Cabin Six.
Episode Appearances
Season Two
Gallery
References
Ad blocker interference detected!
Wikia is a free-to-use site that makes money from advertising. We have a modified experience for viewers using ad blockers

Wikia is not accessible if you've made further modifications. Remove the custom ad blocker rule(s) and the page will load as expected.