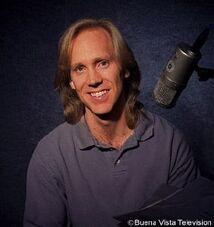 Jeffrey Glen
"
Jeff
"
Bennett
is an American voice actor born on October 2nd in 1962. He used to live back in Burbank (California) in the United States.
Life and Career
Jeff began his voice acting career in 1984 when he gave his voice to Gikuri, a character from the movie Nausicaä of the Valley of the Wind. He is most recognized for voicing the protagonist of Cartoon Network's 1997 cartoon series called Johnny Bravo. He has voiced many characters from different video games, including Kyle Kardan of the Jedi Knight series. He also voiced main character roles in many different series, including non-Disney cartoons such as Transformers: Animated, The Penguins of Madagascar, Gargoyles, and Earthworm Jim.
To this day, Jeff Bennett still works in the voice acting industry.
List of American Dragon: Jake Long Roles
In the American Dragon: Jake Long series, Jeff voices many different characters. His voice is heard in 36 episodes total, 20 from Season 1 and 16 from Season 2. He plays two main characters, three recurring characters, and more than 20 one-time characters throughout the entire series.
Main Characters
Recurring Characters
One-Time Characters
List of Other Animated Disney Roles
Aside from American Dragon: Jake Long, Jeff has voiced many other characters in Disney TV series, video games and movies. The most notable ones are Mr. Smee from the Peter Pan franchise, Tramp in Lady and the Tramp 2: Scamp's Adventure, and Prince Eric in the The Little Mermaid TV series.
Animated Series
Movies
Video Games
Other Voice Acting Roles
Jeff has a wide number of movies and TV series in which he gave his voice to one or more characters. He has done so to many different companies, including Nickelodeon, Cartoon Network and DiC Entertainment (the latter having merged with Cookie Jar Entertainment in 2008). He has voiced more than 400 characters in more than 350 different movies, TV series and video games combined.
Some of his most famous roles outside of the Disney company include Ace and Big Billy from The Powerpuff Girls, Petrie in The Land Before Time sequels, Dexter's Dad in Dexter's Laboratory and Marco de Pollo in the Escape from Monkey Island video game.
Trivia
Ad blocker interference detected!
Wikia is a free-to-use site that makes money from advertising. We have a modified experience for viewers using ad blockers

Wikia is not accessible if you've made further modifications. Remove the custom ad blocker rule(s) and the page will load as expected.