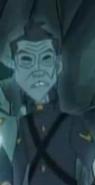 The
Hook Hand Ghost
is a member of the civil war soldier gang that died and became ghosts. His ghost haunts at camp with his leader
Shackles Jack
.
His hand was cut off and was replaced with a hook. He doesn't have eyes just like Shackles Jack, Solitary Sam, Chain Gang Chuck, and Peg Leg Pat.
He just appears in "A Ghost Story". He is one of Shackle Jack's prisoners and minions.
Ad blocker interference detected!
Wikia is a free-to-use site that makes money from advertising. We have a modified experience for viewers using ad blockers

Wikia is not accessible if you've made further modifications. Remove the custom ad blocker rule(s) and the page will load as expected.