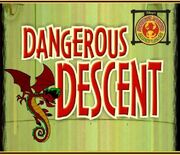 Dangerous Descent
is an online video game based on
American Dragon: Jake Long
.
Plot
The Huntsclan have captured 5 magical creatures and have taken them to their lair. Jake transforms into the American Dragon to rescue them.
Magical Creatures
A Griffin
A Unicorn
A Leprechaun
2 Field Pixies
A Mountain Troll
Characters
Huntsclan members
Huntsman
Griffin
Troll
Pixie
Leperchaun
Unicorn
Trivia
The members of the Huntsclan have the season 1 version, except for 88, 89, Huntsgirl, and Huntsman.
All the magical creatures that were captured have the season 1 version.
Huntsman is very huge when you battle him.
88 and 89 will be the third bosses after the Griffin and the Unicorn are rescued.
Gallery
Ad blocker interference detected!
Wikia is a free-to-use site that makes money from advertising. We have a modified experience for viewers using ad blockers

Wikia is not accessible if you've made further modifications. Remove the custom ad blocker rule(s) and the page will load as expected.