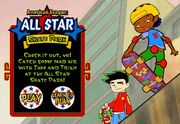 American Dragon: All Star Skate Park
is an online video game based on
American Dragon: Jake Long
.
Description
You can experience the reality of the half-pipe challenge. Catch some mad air and try to perform some insane stunts! Choose which you want skater to be- Jake or Trixie- and start to skate as Pro. But beware; there's no time for mistakes, because time is running and you must do as many tricks as you can. To avoid any mistakes you must reach the "Big Air" by pressing and releasing the Space bar at the right time.
Instructions
When entering the ramp press and hold the Space bar to gain speed. Release the space bar to launch out of the ramp. While in the air press your arrow keys to perform various tricks! Try to use combos with the arrow keys so you can do even more crazy tricks. Score bonus points when you catch mad air: 3-trick combo for 200 points and 4-tricks combo for 300 points. Also try to get the Dragon Combo by completing all tricks in the round – 2000 points!
Gallery
Ad blocker interference detected!
Wikia is a free-to-use site that makes money from advertising. We have a modified experience for viewers using ad blockers

Wikia is not accessible if you've made further modifications. Remove the custom ad blocker rule(s) and the page will load as expected.